Why Join The Emerging Chiro's Program?
 Do you want to be the best Chiro you can be?
 Do you want to hit the ground running in practice?
 Do you want to fast track your success in practice?
DID YOU ANSWER YES TO ANY OF THESE?
Then the Emerging Chiro's is for you!
Knowing your science and the chiropractic technique is only the beginning. You will not be overrun with Practice Members just because you have your graduation diploma on the wall. There is a lot more you need to know that you will not get in your undergraduate program, which you will get here.​​​​
I loved the flow of what we were taught and the values section really hit home for me! Sam did a great job with the webinars, and the online content was accessed easily

DR MARTHIN MIKKELSEN
What is Emerging Chiro's?
Emerging Chiro's is a coaching program SPECIFICALLY aimed at Chiro students and new grad Chiro's
The program is made up of 4 modules
Essentially it's a blue print for success in practice:
getting clear on and expanding your vision

setting goals aligned (chiro pun intended) with your vision

finding the right practice for you

tips and tricks of communication

action steps to launch your practice

and much, much more!
So, if you're still reading this (and watched the video) you're on the right track to launch yourself into your Chiropractor journey.
Even if you are on the right track you'll get run over if you just sit there.

WILL ROGERS
The Quest Emerging Chiropractors Coaching Program will get the basics right so that you, the Emerging Chiropractor will hit the ground running.
​​​​​​​Your Coaches: Dr Mark Postles & Dr Sam Parker
Mark graduated in 1975 from Palmer College of Chiropractic. As a practitioner he has operated a number of successful family lifestyle focused practices. He currently conducts a multi-doctor practice and believes there is much to be done to ensure that chiropractic assumes its rightful role as an integral component of every person's healthy lifestyle.
Sam recently graduated RMIT in 2013 and has first hand experience in the ups and downs of being an associate, and the sometimes difficult transition period from being a student to a chiropractor and beyond. His journey has been one of advancement and evolvement, and learning from his journey. Sam want to impart this wisdom and see you achieve your optimum potential with Quest in becoming the best person you can be, as well as the best chiropractor you can be.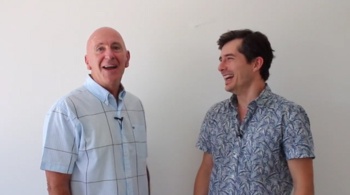 The Emerging Chiropractors Program is
​​​​​​​OPEN FOR ENROLMENT NOW!
THE 4 WEEK PROGRAM INCLUDES:
 4 online modules that take you through the program step by step
 30 video based lessons
Supporting materials and worksheets
 Private Facebook group access for ongoing support
 Monthly group calls (with past student alumni), for 12 months!
Unlimited e-mail access to Sam
 BONUS: Access to recorded module wrap up group calls from 2 previous rounds!